Pure Palo Santo Candles
Enjoy the holistic relief and the rich scent of our sustainably distilled, 100% Pure Palo Santo essential oil aromatherapy candle. These candles exudes a raw, crisp, clean, woody, minty scent that has a long-lingering aroma. The scent cushions the room without even being lit. The scent can stay in the room for hours even after putting it out.
Maison Palo Santo Candles. The One and Only Pure Palo Santo Candle!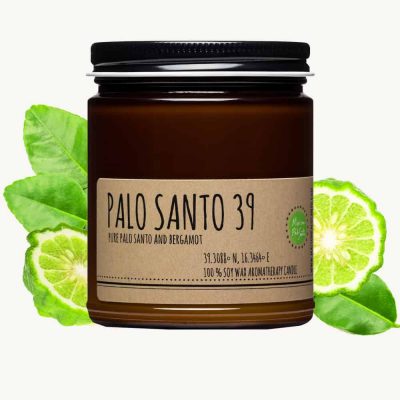 Palo Santo and Bergamot Candle 39
"Uplift the senses to relax the mind"
This distinctive floral romance between the royal citrus and the holy tree makes for a truly enjoyable olfactory experience. Bergamot invites you to see life with more optimism. Be the life of the party as you discover more of your positive true nature.
Candle comes hand-wrapped in green tissue paper and a hand-stamped brown box made of 100% recycled materials.
Available sizes: 4 oz. candle or 9 oz. candle
Burn time: 4 oz.: 30 hours; 9 oz.: 60 hours
$

28.00 –

$

43.00
Select Size